This month's Team Member Spotlight features … Vern Patrick Elementary teachers and LIPI superstars Bryan Bahns and Tiffany Priest!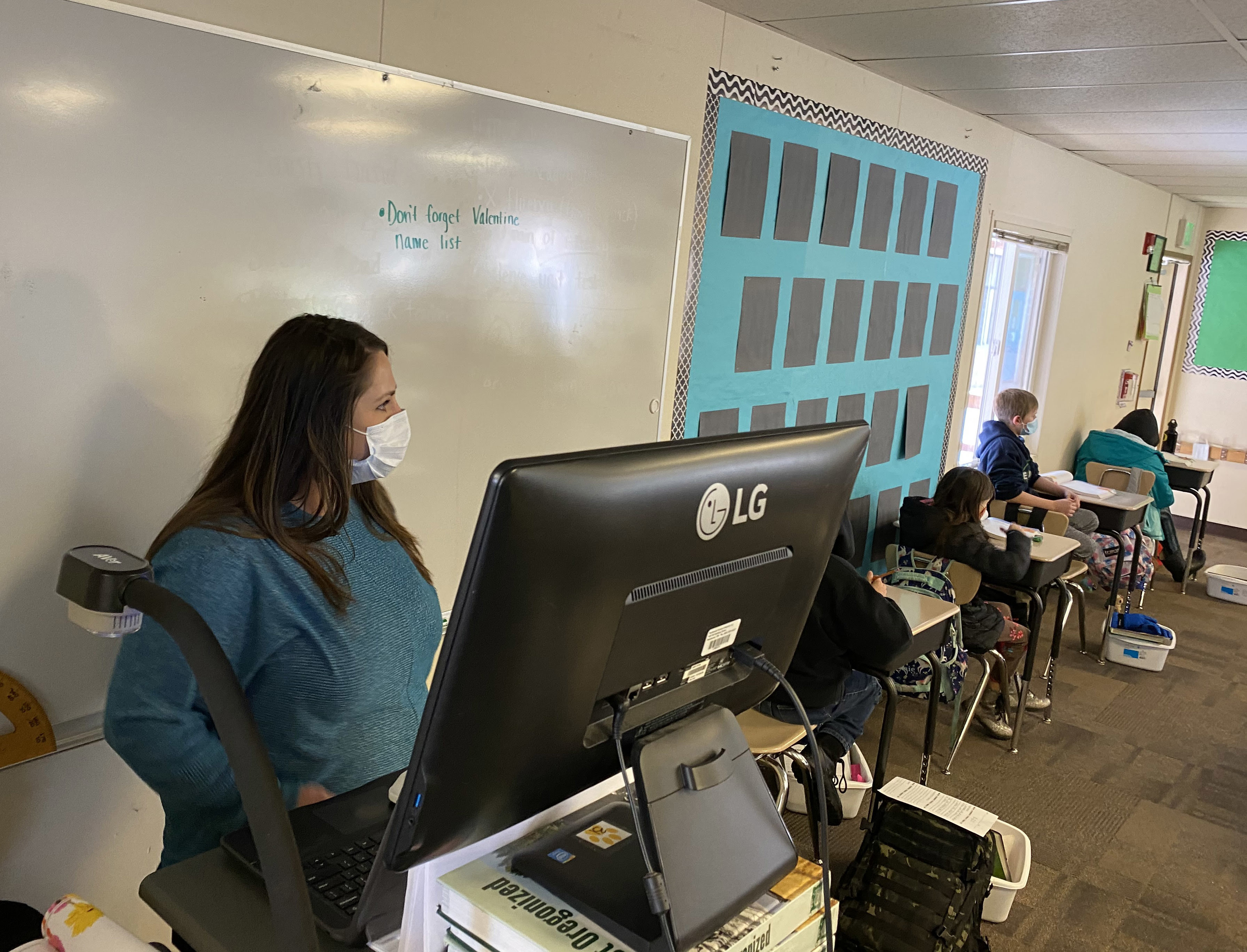 Here's a little more about Tiffany Priest. 
How long have you worked for the Redmond School District?

This is my third year working for the Redmond School District at Vern Patrick Elementary. Before that I did my student teaching at Vern Patrick while getting my masters degree at George Fox University.

How has the pandemic affected your role? 

During the pandemic, my teacher hat has changed in so many ways, from working from home to being back in the building with no kiddos. However, now that we can have kiddos back in the building it is feeling a little more normal.

Tell us about how you've implemented LIPI. 

I invited all of my students to attend LIPI four days a week. Equity was a big one for me on this topic. Being able to see my students four days a week has helped build those relationships that cannot be created behind a screen and gives them a safe place to learn, even if it is only two hours a day.

What have been some of the challenges you've faced this year?

One challenge this year has been students engaging in online learning, but with LIPI the kids who do not access online learning show up to my door every day and that is what makes this all worth it. 
Here's a little more about Bryan Bahns.
How long have you worked for the Redmond School District? 
I am currently in my 18th year of teaching, all for the Redmond School District and all at Vern Patrick Elementary. Prior to teaching, I worked in a grocery store, where I met my wife of 30 years. I then moved to a route sales position with Frito Lay Inc. for another 12 years, and during the last seven of those years I was in night school earning my bachelor's and masters degrees in education. 
How has the pandemic affected your role? 
My role hasn't changed, but the way I do my job has certainly become more of a challenge. It is one thing to connect with students when they are right in front of you for seven hours a day. Teaching online has forced us to make those connections through a screen with very little control over whether or not a student is there and if they stay there. Once they exit a meeting, it can be very hard to get them back. There are also an unlimited number of distractions away from school. I'm sure like many educators, I like to have control of my teaching environment and we have had to deal with letting some of that go over the last nine months. 
Tell us about how you've implemented LIPI. 
I am fortunate to have a class of 20 students right now, so under the LIPI guidelines I can have all of my students attend class for two hours each day. On average I would say that I am serving about 15 students each day in person. This time has been extremely valuable for myself and my students. Aside from the obvious mental benefits of getting to interact with each other, it has given the students a little bit of normalcy in their school lives. I am still serving the students that do not attend LIPI at the same time, so the instruction is similar, but it has allowed the in-person students to set aside the computer, pick up a pencil, and produce some work the "old-fashioned" way. It is the best two hours of the day and what I look forward to the most. The kids have been amazing when it comes to safety. They are so pliable and in tune with the challenges we are faced with. Everyone wears their mask. Everyone respects space. I have had to give very few reminders and have not met with any resistance from students or families in regards to expectations. 
What do you enjoy most or find most rewarding about your role? What have been some of the challenges you've faced this year? 
The most rewarding part of my job is relationships. I get to hang out with kids every day and it is hard to imagine having a better job than that. I can honestly say that in 17+ years I have never had two days that were the same. I have never looked at the clock and said to myself, "Man, time is just dragging by." There have been lots of challenges throughout the past year, but nothing that couldn't be overcome. I truly believe we will all be better at our jobs on the other side of this. 
What else should we know about you? 
It has been my honor and privilege to work for the amazing people in the Redmond community. I have met so many amazing children, families and colleagues. I look forward to the many years to come. In my limited spare time, I like to watch and play sports and more so I enjoy hikes in our amazing backdrop of Oregon with my wife, son and two dogs. 
"Bryan and Tiffany have been leaders in the building and models of LIPI instruction. From the moment we were allowed to bring kids in for LIPI, these two immediately found a way to bring in as many students as possible and have never stopped, providing in-person instruction every day! I can count on them to support and encourage their teammates, and their families are beyond grateful to their dedication. It is obvious they love what they do, and I appreciate them!" — Jennifer Hesse, Principal of Vern Patrick Elementary

"Seizing on the opportunity to bring students into school for in-person instruction has been a gamechanger for our students and families. The power of that personal connection makes such a significant difference.  Thank you to Bryan and Tiffany and all other Redmond educators who are working so hard to provide this valuable experience for our students." — Linda Seeberg, Executive Director of Academic Programs